Super Bowl Champion Designs The World's First Omnidirectional Smith Machine.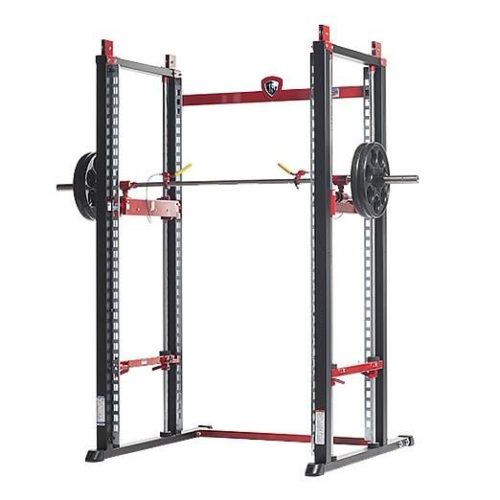 The Smith machine was invented in the 1950s. Over the last 60+ years the original Smith design hasn't changed much. Until now! Former NFL football player and Super Bowl champion, Brady Poppinga, has teamed up with Tuff Stuff Fitness International designing the world's first omnidirectional smith machine. His design, called the XPT, has a guided barbell that moves vertically, laterally, forward and back, side to side, rotates and swivels. The bar moves with the user's natural movement patterns. The movement of the bar engages the muscles in the same way as a floating barbell. The barbell is connected to a quad lock braking system that simplifies and enhances the safety benefits of the the old Smith design. It brilliantly combines the safety of a machine with the desired benefits of free weight lifting.
"Free weights can be intimidating. There is not a more helpless feeling than getting stuck under a barbell that you know you're either too fatigued or not strong enough to lift. At that point, you're putting your health, and in some cases your life in the hands of a spotter. You better hope that spotter knows what they are doing," Brady Poppinga explains.
"I have over 20 years of serious lifting experience. Until this day, I still feel uneasy getting up under a free weight barbel. Even if I am being spotted by someone who knows what they are doing. So many things can go wrong before you can react. That is the reason why I designed the XPT. I wanted to create a safe, non­intimidating, and inviting replacement to traditional free weight lifting without compromising the results gained," states Poppinga.
"In high school I turned to the Smith machine as a safe alternative of free weight training. But, unfortunately the Smith failed in giving me the same strength gains. I remember training on a Smith for six weeks and then returning to free weights. My strength levels decreased dramatically. It was very frustrating to have worked so hard without getting the results I wanted. That experience inspired me to want to take the old Smith design and update it."
"Over the last decade the fitness Industry has evolved substantially. Fitness clubs are more inviting and friendlier than ever. Cardio equipment has progressed from having displays with no graphics to interactive HD LCD screens. But, free weight lifting equipment is still stuck in the past. Especially the Smith machine. The vast majority of these modern gyms still offer the Smith with the same 60 year old design," Brady says." Replacing the old Smith with an XPT is a fantastic way of modernizing the free weight lifting area to today's standards."
With studies showing that there are superior advantages of free weight lifting over other forms of exercising like, faster muscle development, higher metabolism, less anxiety, better sleeping habits, and less belly fat to name a few1 . The XPT gives a broader access to those benefits in a safe, friendly machine that the 60 year old Smith originally intended to achieve.
For more information email xpttrainer@gmail.com